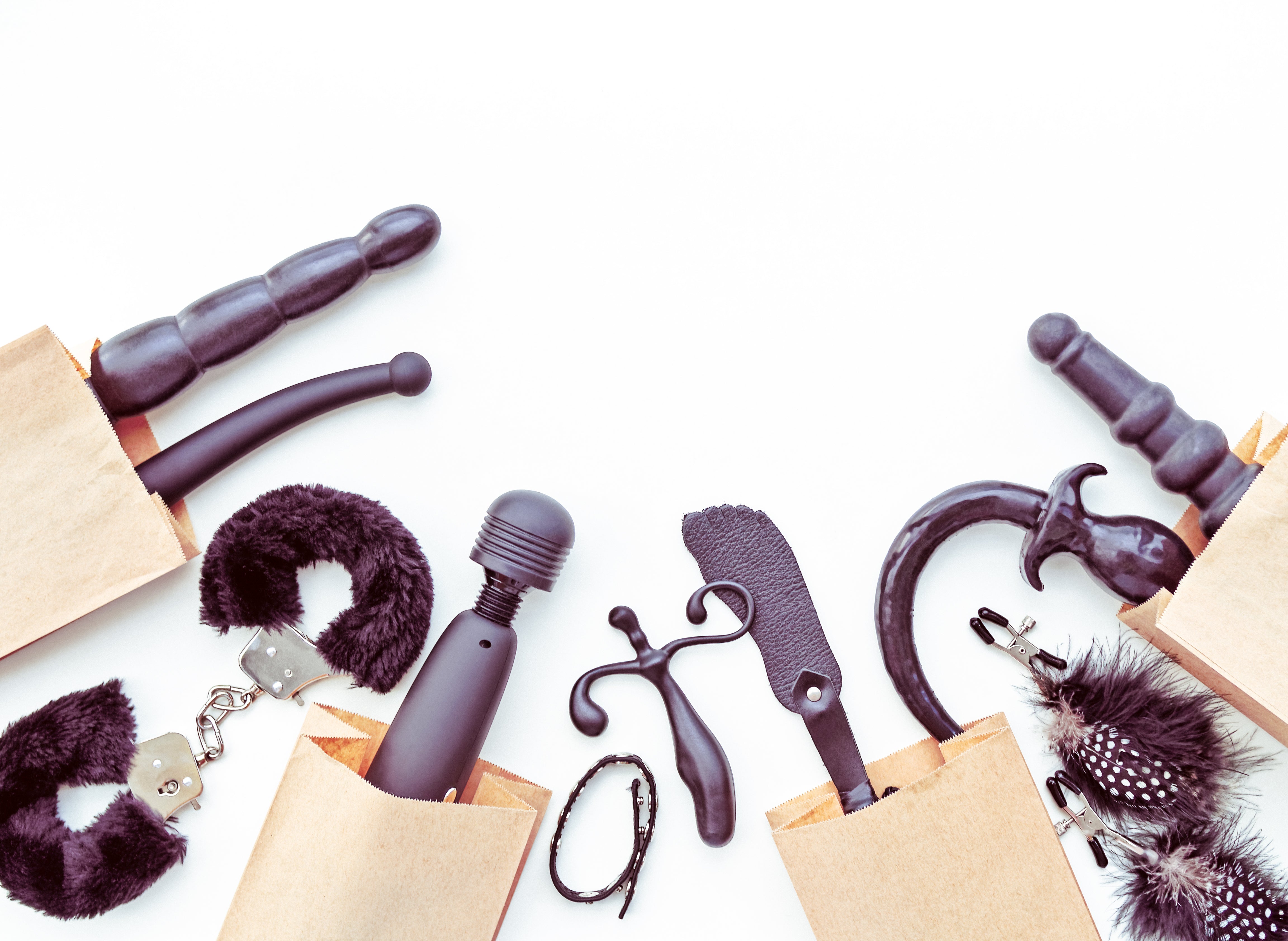 Affordability, versatility, and creativity aren't all that matter when it comes to the sex toys you trust with your personal pleasure. As is the case when purchasing any item or product that will come into contact with your skin or any sensitive area on your body, you need to consider how a particular sex toy might affect your health as well. Here's a closer look at everything you need to know to make smart, safety-conscious sex toy decisions on an ongoing basis.
What Makes a Sex Toy Potentially Unsafe?
Many people simply assume that sex toys are regulated by the government when it comes to any harmful materials, phthalates, or other chemicals they might contain, but this is actually not the case. As a result, more than a few sex toy manufacturers out there choose to reduce costs by cutting corners and distributing cheap, low-quality toys that could be harmful to their customers' health.
That means it's up consumers to educate themselves on how to choose toys that are body safe, health-conscious, and high in quality. The following are just a couple of common red flags to look out for when shopping for vibrators, a new dildo, or any other type of sex toy you may be in the market for.
Phthalates
Phthalates are toxic chemicals that have been linked to various health issues over the years, including cancer and infertility. They are commonly added to sex toy materials like rubber, latex, or jelly to make them soft and flexible. While a particular toy might not be labeled as containing phthalates, those that don't are often labeled "phthalate-free" or "body safe," so look for this when evaluating a potential purchase.
Porousness
Most soft sex toy materials like are porous, meaning they contain plenty of microscopic pockets and crevices where disease-causing bacteria and organisms (including those that cause STIs) can hide. It means they're not as easy to clean as harder materials like plastic, glass, silicone, or metal, so pleasure-seekers should be prepared to adopt a stricter cleaning regimen if they do decide to buy.
Shady Vendor
Where you buy your sex toys matters when it comes to your ongoing safety and sexual health, so choose wisely. A Chinese knock-off sex toy from a less than reputable vendor may be appealing because of its cheapness, but it also might eventually cost you your health and long-term wellbeing.
Know Your Materials for Sex Toys Safety
One of the most important things to keep in mind when shopping for safe sex toys is the material they're made of. Knowing your materials can make it easier to choose vibrators and other sex toys that deliver the type of experience you're looking for as well. The following are among the safest picks out there on the market.
Silicone
Silicone is among the most popular sex toy materials for several good reasons. It's non-porous and easy to clean, so you don't need to worry about it breeding bacteria. It also warms quickly to your body temperature, as well as transfers sensation efficiently, making it a popular option for toys like vibrators. Plus, it comes in a wide variety of firmness options without added phthalates and other toxic chemicals.
Hard Plastic
Also, sometimes referred to as ABS, hard plastic is super smooth, inexpensive, and non-porous. It's also straightforward to clean, as well as an excellent fit for people who like substantial sex toys that intensify vibrations and other sensations.
Glass
Glass is a popular sex toy material among pleasure seekers who like their toys to look as good as they feel. It's tempered so as not to break, chip, or crack. It's easy to clean and very hygienic, so it's a popular choice for vaginal toys, anal toys, probes, and other insertive options. It also holds temperature well, so many toy lovers enjoy dipping their glass toys into warm or cold water to experiment.
Metal
Those who like the idea of a harder sex toy, but don't care for glass may want to explore metal. Metal is body-safe, dense, firm, beautiful, and great for temperature play. It also adds an elegant touch of visual appeal to any collection.
Practice Proper Sex Toy Safety and Hygiene
Even health-conscious, body safe sex toys need to be kept very clean if you're serious about taking care of your sexual health. Remember, these are going inside you or otherwise making contact with your body's most intimate areas. Each toy should be washed after every use to remove germs, bacteria, and residue from lube or bodily fluids. (Also washing before use to remove any potential debris or lint is not required, but is still a good idea.)
Porous toys should be washed thoroughly with dishwashing soap, antibacterial soap, or dedicated toy cleaner and hot water to ensure they're clean. Non-porous, non-electronic toys like dildos or anal plugs can be washed the same way or even placed in the dishwasher if you'd like to get them clean.
It's also a good idea to keep a bottle of spray-on, wipe-off toy cleaner on hand for quick, easy use as needed when you're in the middle of a pleasure session. Such cleaners come in handy when transferring a toy between multiple partners, switching from anal to vaginal penetration, and so forth.
Be Health-Conscious When Sharing Your Sex Toys
When it comes to vibrators and other sex toys, sharing is caring on nights you'd rather not keep the fun all to yourself. However, it's important to share responsibly. For many people, it helps to think of their sex toys as extensions of their bodies when it comes to how to stay safe.
Know the STI status of anyone you're planning on sharing a sex toy with. If there's any doubt whatsoever, or if you're engaging in a sex play with any number of people you don't know well, keep a bowl of condoms handy. Place a fresh one over insertive toys before using them on a different partner or to please a different part of the body. It helps keep germs and the possibility of infection at bay.
Shop from the Right Vendors and Manufacturers
There's no such thing as too informed when it comes to sex, sex toys safety, or your ongoing sexual health. Read up on various sex toy manufacturers to make sure they're creating safe, health-conscious options you can trust your body to. Know what to look for when evaluating your individual toy options, and always read the packaging carefully, so you're aware of what you're putting in your body.
Last but not least, always buy your toys from a trusted source like Pleasure Place. Such top tier vendors take pride in what they sell, so they carefully vet the toys, products, and accessories in their inventory, so their customers don't have to worry. Plus, you can rest easy in the knowledge that you're not only getting safe sex toys but toys that are high in quality on every level. After all, your body, your pleasure, and your experiences are worth it!