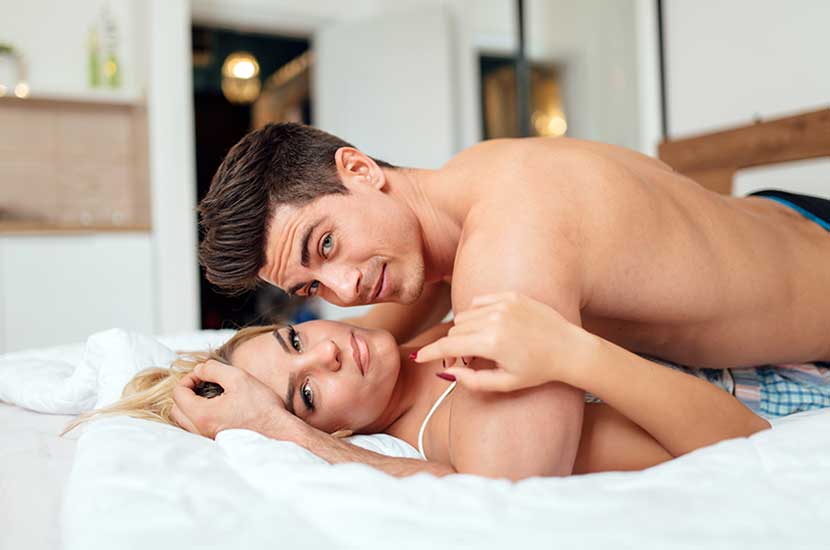 Time will come that you and your partner will notice a decrease in your sex drive over time. This is common in couples that are together for a very long time. If you noticed that your partner is not as enthusiastic in bed as before, this only means one thing, you need to spice up your sex life a bit.

If you neglect these signs, sooner or later you will as well lose interest in sex and this is not good for your relationship. If you want to save your relationship, you can follow these tips to rekindle the fire of passion between you and your mate in bed.
Stop Doing It in Bed
Repetitive sexual activities create a routine and routines are normally boring. This is why individuals lose sex drive if they constantly get the same sex all the time. Now, it is time to change the scenery and try to do it somewhere else but the bed.

You can have satisfying sex on the couch, on the floor, on the table, and even on the kitchen island. Do not also underestimate the pleasure of having sex in the bathroom while showering. There are so many creative ways you can do to change your usual boring sex a little bit.

Some couples even do it in public places such as their car, office, and the likes. If this is too extreme for you, you can opt to stick to the first suggestion as long as you do not do it on your bed. You can surprise your partner by telling him or her that you want to do it somewhere else.
Try New Sex Positions
Because breaking your usual sex routine is your main goal here, you must not do that sex position that you are constantly doing again and again. Why not try to explore and try new positions to spice up your sex. You can ask your partner if they want to try another position. Maybe they have been fantasizing about a certain position and just too shy to ask you to do it.

Additionally, you can follow the rhythm of your and your partner's body language during sex and just open your mind to different possibilities that can happen. You do not need to do research and practice any positions you will just have to follow and go with the flow.

If you open up your mind your body will follow and it will become more natural than forcing yourself into doing it. You can start talking with your mate about sexual positions and try to see where they stand with this matter so that you know how to do it properly.
Watch Porn Together
Have you watched porn with your partner before? Then this is the perfect time to start doing it. Porn can be a useful tool to learn more about sex. While you are learning a lot of new pleasurable things about sex, it can as well get both of you in the mood.

If you are uncomfortable in watching porn, you can ask your partner to try other things like reading erotica books. You can take turns in reading or even do a role play and pretend you are the characters in the story.

It is also advised to create your own erotica especially if you have the most creative imagination. Create an erotic story in a journal and you can recreate the story when you finished it.

You and your mate can take turns in writing the erotic journal. You can start the story and your mate will pick up where you left off until the story is finished.
Use Sex Toys
Sex toys are the most effective tool to spice things up in a couple's sex life. There are a variety of sex toy options that you can incorporate into your sexual activity to make it more exciting. You can try a couple's vibrator and enjoy amazing pleasure added to your penetrative sex.

You can as well opt for clit stimulator and give the control to your partner so that they can turn the vibrator on and off anytime they please.

You can try purchasing the Vedo Kiwi Clit Stimulator as it comes with a remote control that your mate can use to provide you with 10 different vibration modes and 6 intensity levels.

You can wear it around the house while you let your partner hold the remote. This way he can tease you by suddenly turning the vibrator on and off while you are going around the house. It does not only please you but it can also be very fun and arousing for your partner.

Aside from the typical sex toys like vibrators or dildos, you can as well use fetish toys like bandage kits, butt plugs, and nipple clamps. However, when you want to go extreme, it is best to consult with your partner first to know if they are comfortable with the idea of fetishes and BDSM.
Sexting With Your Partner
You can start to initiate hot sex by sending a provocative text to your partner. It is a fun way to inform your partner of what is going on in your mind.

To ensure that your mate will be aroused, make sure to use languages that you know your partner will be provoked sexually.

You can start initiating the sexting an hour or two before you go home from work. This can make your partner want you more and when you arrive home, expect to have hot and steamy sex.

During your sexting, let your partner know what you want and what you are going to do. It will be like a detailed preview of what is coming. This can be very stimulating to your partner as their imagination will start going crazy about the hints you are sending.
Set The Vibe Right
Your surroundings play a significant role in how good your sex will be. It is best that you and your partner feel comfortable so that it can be easier for you to move and enjoy. A study reveals, that taking time in setting up your scene will result in more satisfying sex.

You may want to dim the lights in your bedroom as having sex in bright light can ruin the mood while doing it in the darkness can be boring. Make sure that the light is not too bright yet not too dark so that you can still see your partner's expression as he or she is enjoying the pleasure you are giving.

If you do not have dimmers, you can just turn your lights off and light some scented candles as it can as well enhance the mood. In addition to mixing the best lighting for sex, it is also best to clean up. You do not want to be naughty while seeing your sheets looking nasty as it will get you off the vibe.

Furthermore, if you are not going to use a scented candle, you can try to use essential oil to add fragrance to the room or massage your partner with relaxing scented massage oil. You can take turns in massaging each other and make sure that the massage will be erotic.

As both of you making yourselves get lost with your desires you can play your favorite tune on the speakers to further improve the mood. Whether you love listening to love song, alternative rock, and even R&B as long as it helps you get into the mood it is good enough. You can synchronize your body movements along with the rhythm of the music that you are listening to.
Talk About Your Fantasies
One of the most famous sex tips that you can hear nowadays is to talk about your fantasies with your partner. The majority of people have sexual fantasies which is why you and your partner should share them.

This is a good way to know each other more and next time, both of you already know how to turn the other one on using the information shared discreetly between the two of you.

If you become comfortable in sharing your sexual fantasies with your mate, it means that your communication has improved and you are becoming more comfortable with one other.

It is also best to act your fantasies out during your next sex and you will be more satisfied than ever. If you are looking for a relaxed way to open this topic with your mate, you can start sharing your sexual fantasies by playing a game. However, it is still best to talk about it in a straightforward conversation.
Do Foreplay
Doing foreplay right before sex can create great anticipation and this can make things even hotter when you come down to the main event later on. The longer the anticipation the better. You can make out like a teenager while you are touching each other.

Do not jump right into sex just yet, enjoy the kissing and touching first. You can also shower together and tease each other while making out. Some couples love to do massages before having sex to relax the tension build up in the muscles to ensure a great performance later on.

Foreplay can mean differently for each person. Even the mentioned tips earlier such as sexting, talking about fantasies, and watching porn together are also considered as foreplay.
Lingeries and Costumes? Why Not!
Why not try role-playing? Purchase sexy costumes to make your sex more exciting. You can be a sexy nurse, a teacher, or whatever you want to be. Additionally, sexy lingerie is enough to add spice to your sex life.

You should surprise your partner with these costumes. Make sure that you will come home first and wait for your partner while wearing the outfit. Be creative on how you will show your outfit to your partner.

Lying on the bed or the couch so that they can see you as they open the door can be one thing. You can also walk around wearing the outfit and see how your partner reacts when they see you.

Some women love to wear heels while doing it. This makes them more aroused as they think it is sexy. Some men love it too but some may find it weird and funny. This is the reason why you must talk with your partner about foreplay so that you know what can trigger them or what might let them lost the drive.

Another thing that you need to remember, foreplay should not stop when you are starting engaging in sex. Starting dirty talk with your partner while you are having sex is considered foreplay. Many people get more aroused and will surely enjoy the sex even more if their partner talks dirty.

The same goes for you, you will be surprised how you will get an orgasmic experience just by listening to yourself talking dirty.
Be Adventurous
The key to having a good sex life is to be open-minded and adventurous. be daring on your next sex like doing oral sex outside of the bedroom. You might already have some naughty ideas in mind right now and it could be best if you act it and not just think about it.

Your mate will surely appreciate your initiative and you will surely enjoy it as well. Do some variations and experiment with new things each time. This way, you can not make repetitive sex activity that will get boring soon.

You can do some research on things you can do to make your oral sex exciting. However, it is always best to listen to your and your partner's body language. How they react to what you are doing will give you a hint of whether they are enjoying it or not.

Do not limit yourself to the things you can do with your mate. Do not be afraid and try all possibilities. You do not have to worry at all because your partner will surely enjoy the pleasure that you will give them if you just know how to explore.
Play With Your Senses
One of the most common reasons why sex is becoming boring is because we tend to stop paying attention to our senses. A great sexual experience can be achieved completely if you awaken all of your senses.
Sight
The next time you have sex with your mate, you can try to blindfold your eyes as it can give you a chance to appreciate the physical pleasure sex can provide. When having sex with your eyes open, it can surely let you see how attractive your mate is but you might not appreciate the physical pleasure as you will be more focused on your mate's physique.

You can buy a sexy blindfold to add to your sex toy collection and see how you can experience sex on a whole new level.
Touch
The next sense that you might want to play with is your touch. Touching is one way of showing love, affection, and even desire. It can enhance sexual pleasure if you are touched on the correct spots. However, to make it more exciting, why not try to use a handcuff to prevent you or your partner to use their sense of touch.

Just by imagining it makes you exciting isn't it? This is why bondages are one of the most purchased kinky sex toys because of the heightened pleasure they can give. Alternatively, you can use a pleasure feather to tickle your mate while being handcuff.
Hearing
Hearing the voice of the person you love can melt your heart but hearing them moaning and talking dirty because you are doing a great job is another thing. Make sure that both you and your partner become vocal as to how you feel during sex. You can both find it more arousing listening to your partner talks about how good you are in bed.
Smell
Now it comes down to the smell. A person can be triggered sexually just by smelling a certain smell. Whether it is the perfume your partner is wearing or their natural scent will surely get you into the mood.

Every person has different preferences and different triggers. You must understand yours so that you can tell your partner about it and they will know what to do. Smelling your partner's scent can as well help you reach orgasm so don't be shy to ask your partner to wear that perfume that you like.
Explore Your Erogenous Zones
Erogenous zones are one key factor you must know to achieve great foreplay. In case you did not know yet, our body is comprised of a lot of erogenous zones.

If this is your first time hearing about erogenous zones, you might want to check out the list below to know what part of your mate's body you will need to focus on.
Neck and nape
Inner wrist
Mouth and lips
Navel
Clitoris
G-spot
Ears
Breasts
The Scrotum
The perineum
Proper stimulation of these erogenous zones can already spice up your sex life. If you want to spice things up without much effort, you must explore the mentioned spots on your mate's body. These zones can produce a sensation that will contribute to how pleasurable your sex can be.
Final Word
Don't just get complacent with how your sex life is going. You may have a very active sex life with your partner but little do you know that your partner is starting to feel boring. Now that you have read this article and had an idea of how you can improve your sex life, you can start doing it no matter whether you think your partner is already bored with your sex life or not.